Lincoln Pro Cut 25
---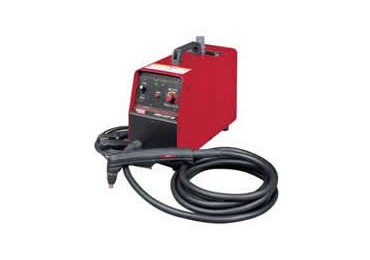 The Lincoln Pro-Cut 25 is a highly versatile and portable plasma cutter of it's kind weighing at just 29.5 pounds. It uses the patent pending PCT 20 hand torch (15ft) and Vortech Technology, which is regarded to have the longest consumable life in the industry, and is proven to provide the machine with additional cutting speed and capacity.
In case you're wondering, the Pro Cut 25 is actually a Two-In-One unit which can perform both air plasma cutting and plasma goughing. It's ability to reconnect between 115V and 230V input makes it ultra convenient for tradesman who may have obligations on various sites. The unit also comes with a "LED display system" which monitors the status of the power source and act as a good indicator for troubleshooting.
Another amazing feature of the Lincoln Pro Cut 25 would be the "Parts-In-Place" technology which senses parts and see if they are in the right place. If the "Parts In Place" sense that a certain consumable part is not in the right position, it will prevent the torch from operating.
Input: 115 or 230 Volt
Rated Output: 25 amps @ 35% duty cycle (90 volts)
Weight: 29.5 lb or 13.4 kg
Cut Capacity: 3/8 inch or 9.5mm (Mild Steel)
Product Code: K1756-1
See more Plasma Cutter Reviews
What do we think?
While we no longer recommend this plasma cutter due to Lincoln discontinuing this in their production line. In saying that, there are still available stocks on the market if you look carefully. This machine is extremely light weight given the power it possess and is perfect for light metal or steel cutting. So if you're not too fuzzy in staying update with the latest technology, then this early cutter will certainly do the trick.
---